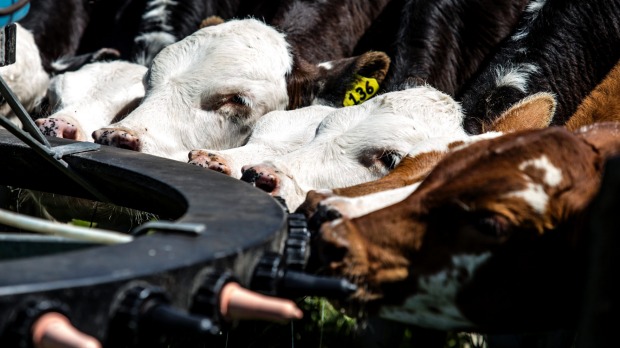 Source: Stuff
ANZ is forecasting a longer, deeper trough in dairy prices.
The bank has dropped its forecast price for milk solids this season by 30 cents to $3.95 a kilo.
It now "tentatively" expected a price of $5 a kilo in 2016-17, which is 50c to 75c less than it had previously been predicting.
Farmers would be losing about $1.50kg on their production over the two seasons, it said.
The bank said there appeared to be "simply too much supply for the market to handle".
Milk production in Europe was increasing and the cost of production was coming down, it said.
"Both these factors are expected to continue to supress prices and delay expectations for a rebound."
Chris Lewis, the Waikato chairman of Federated Farmers, said the ANZ report was probably correct but it wasn't good reading.
"You can't argue with where the market is and what it's telling you," he said.
However, it cost farmers about $5 to $5.50 a kilo just to break even, and they needed more than that for capital such as new fencing or replacement stock.
"You need to be earning well above $6, to be fair."
The saving grace had been that the predicted drought had not been as bad as expected in his region.
"We're still having to spend money feeding cows but it's not as bad. Our crops of maize are looking fantastic at the moment."
ASB lifted its New Zealand milk production forecast for the season by 3 per cent earlier this week saying fears of a summer drought had largely receded.
But Lewis believed that if prices were as ANZ forecast next season, there would be casualties.
"There's 12,000 dairy farmers all in the same boat as me. If it gets any worse, it's a national issue."