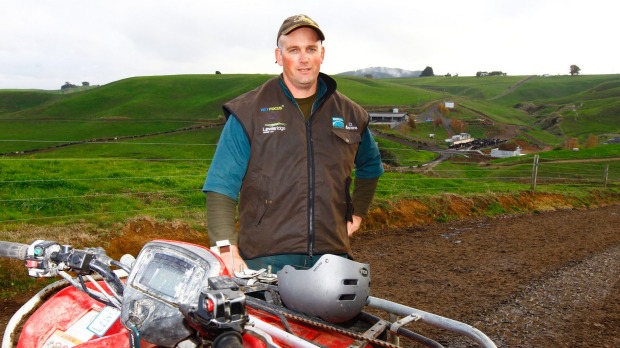 Source: Stuff
The latest fall in milk prices on Fonterra's GlobalDairyTrade has prompted farming and agribusiness leaders to question whether the auction should be temporary suspended until milk prices stabilise.
Prices fell 9.3 per cent after the latest GDT on Wednesday , the 10th consecutive fall and bringing them to levels not seen since 2002.
The dairy sector is New Zealand's biggest exporter, with sales of milk powder, butter and cheese were worth about $12 billion in the the past year, down 24 per cent on the previous June year. The slump in dairy prices has seen the New Zealand dollar fall sharply this year and the Reserve Bank cut interest rates, with more expected.
The slump in dairy prices means few farmers will be making money, with farmers facing two seasons of low prices.
Temporarily suspending the GDT was a "reasonable question" to ask, given the unprecedented and volatile times the industry faced, Waikato Federated Farmers president Chris Lewis said.
The auction was exacerbating dairy market volatility and the extent of the drop, he said.
"It's a major contributor to the decline. It's been gamed by buyers and the price for that is being paid by [the] New Zealand farmer."
He called for an industry-wide discussion on whether it should be temporarily suspended until the market improved.
He said Fonterra should have halted the auction when whole milk powder prices reached $2000 a tonne.
"That would have been leadership. They should have said: 'That is our reserve, buy our good quality product at no less than $2000′.
"It's madness, devoid of any common sense to keep [the] GDT operative in these times."
Such a move was not unprecedented. The Chinese government suspended their stock exchange to hold its value when it shares plummeted, he said.
The only mechanism left for Fonterra farmers to vent their frustrations were the director elections later this year, he said.
Lewis, an Open Country Dairy supplier, described the latest GDT fall as "beyond belief".
It meant Fonterra was advertising farmers' milk solids for sale under $3/kg milk solids.
"Who could ever or would ever advertise their suppliers' raw material for sale at less than half the cost of production? Fonterra are, through their GDT platform, telling all of the global buyers they will sell farmers milk at half what it costs their farmers to produce. It's as simple as that."
The latest result also confirmed there will be a fall in the milk price when Fonterra update their forecast on Friday.
"The question is how much will it drop. It's so depressing now that you don't want to put a figure behind it."
He estimated it would fall to somewhere between Westland Milk Products' forecast of $4.60-$5/kg MS and Open Country Dairy's $3.65-$3.95/kg MS.
The call was backed by OCD chairman Laurie Margrain who said the GDT, and its influence on the market, needed a robust review for the good of the industry. Its impact on the milk price and therefore farmer incomes was significant and worthy of a robust review.
"I wouldn't say that it should be suspended or done away with, but it does need a very robust look at market prices, market behaviour and the outcomes its generated."
He said the GDT tended to proliferate the current downward spiral of dairy products.
Waikato University professor of agribusiness Jacqueline Rowarth also supported Lewis.
"The only way to stop the slide is to say we're not trading anymore and I have been saying for several weeks to stop the auction."
However, Fonterra's managing director of global ingredients, Kelvin Wickham said in a statement that the GDT had not caused low prices. Nearly all of the product offered on the most recent GDT sold to willing buyers.
"Low prices are a reflection of the market which is currently oversupplied with dairy product while dairy importing countries face political, social and economic challenges. Suspending GDT would not solve the supply-demand imbalance."
As well as the price index falling by 9.3 per cent, New Zealand's main exports of whole milk powder and skim milk powder fell by 10.3 per cent and 14.4 per cent respectively.
The average sale price was US$1815 a tonne and many of the products failed to move from their opening prices, which Fonterra sets at 15 per cent below the previous auction price.
This outcome followed disastrous results from the previous auction on July 15 when the price index suffered 10.7 per cent fall.
ASB rural economist Nathan Penny said very few farmers would be producing profitably with dairy prices this low.
"The last time they were this low was around 2002," he said.
"Prices are a bit of a falling knife at the moment and no one is keen to catch it."
He said there were a few indicators of prices recovering in the future but when that would be was difficult to say.
Production may slow given little money would be made at current levels and there was also the risk of dry weather coming up this season, Penny said.
Based on the auction overnight, ASB expected Fonterra to place its price for the 2015-2016 season around $4 when it makes its announcement on Friday.
Penny said there were some risks Fonterra would go even lower than that but he did not expect it to be the final call for the season.
AgriHQ dairy analyst Susan Kilsby said farmers now faced two consecutive seasons of extremely low milk prices.
"Very few farmers will be able to turn a profit at such a low milk price," she said.
"A $1 per kilogram milk solid drop in the milk price equates to approximately $2 billion less income for dairy farmers."
UNDERSTANDING THE FALL
Penny said the main reasons why dairy prices have been going south are:
Supply: there is an oversupply of milk globally. New Zealand is a leading exporter and it has had two big seasons back to back. The 2013-2014 season grew by 10 per cent when production was normally growing closer to 3 per cent, Penny said.
Growth in the season just gone was 3.6 per cent, despite the low milk prices.
Supply is also strong in Europe and China, New Zealand's big dairy market.
Penny said China was a big producer of dairy as well, reaching double digit production growth over 2014 and resulting in New Zealand whole milk powder exports to China falling by over half.
"That reflects the fact that China's own production has been really high and they are able to stock up on their products earlier on. Now they're well-stocked so they don't need to come to the market to buy," he said.
Demand: China's growth has been weak with concerns in the country's share market and weaker industrial and manufacturing data painting a picture of China's economy slowing down.
Demand was also weak in Russia and Brazil, with India being the only positive market in the mix, Penny said.
New Zealand tends to look to developing markets to grown its own exports and for now, those are not doing well, he said.
Sentiment: "Buyers are not willing to catch the falling knife at the moment," Penny said, pointing to the potential buyer mentality of: "What's the point if prices are falling? You can just wait til next time and buy then".