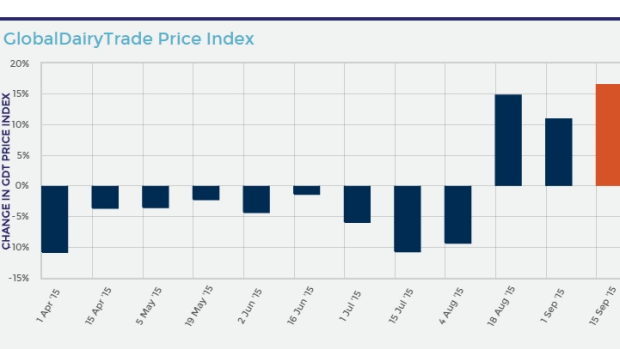 Source: Stuff
Economists are upgrading farmgate milk forecasts after being surprised by the fastest dairy price increase in five years.
Prices soared 16.5 per cent at the GlobalDairyTrade auction overnight, pushing the index to US$2568 ($4037) a tonne.
The third consecutive increase after months of falls is welcome news to struggling dairy farmers, with further rises expected as production weakens.
The key whole milk powder price was up 20.6 per cent to US$2495 a tonne.
There were 186 bidders at the auction, with 36,050 tonnes sold, up slightly from the 35,865 tonnes at the start of the month.
ANZ hiked its forecast payout by 50c to $4.25-$4.50 per kilogram of milksolids.
ASB's bullish forecast was already at $4.50, and rural economist Nathan Penny said the bank had revised it to $5..
"We'd expected a strong one, but it's on the strong side of what we'd factored in," he said.
Penny said much had been made of Fonterra's decision to cut back on auction volumes, which had played a part in the auction result.
"[But] the main story in town is the fact that production is shaping up to be materially weaker this season," he said.
"As that information is firmed up, we expect prices to kick on."
A poor spring had resulted in below average grass growth, with an increase in slaughtering also likely to lower production.
"We also know that many plan to cull further once we're fully through calving and the peak of milk production," Penny said.
Federated Farmers dairy chairman Andrew Hoggard said the result could mean a recovery in dairy prices was solid.
"But at the same time we still have to be cautious because we are into the season now, and a lot of the product's already been sold and forward contracted at lower prices."
He did expect the latest string of results to mean a bounce back in payout for farmers later this season, even if the GDT lifts continue.
"It's still going to be a tight end of season payout, with any luck it's looking better what than it currently is."
He put this latest lift down to simple supply and demand. Overseas buyers had realised that it was likely less milk would be produced this season and were buying accordingly.
The federation's vice-chairman and Waikato president Chris Lewis said it would be an understatement to say farmers were happy with the result.
"They'll also be wary that we've just had 10 in a row of negatives," he said. "It's been a year of up and downs."
Lewis said the price to watch was US$3500 a tonne, a level last seen more than a year ago.
"If it hits that before Christmas, then the financial pressure will come off farmers a little bit this season."
AgriHQ revised its forecast farmgate milk price to $4.65 per kilogram of milksolids, up 46c.
Analyst Susan Kilsby said the larger-than-expected increase was partly driven by lower volumes.
The amount of whole milk powder offered at the Tuesday night auction was 43 per cent lower than the same time last year.
Kilsby said El Nino conditions were also highly likely to continue through the summer.
"Buyers are aware that a drier than normal summer will slow milk output in New Zealand, therefore we are starting to see a little more urgency from buyers wishing to secure purchases."
Fonterra's current farmgate forecast is $3.85, well below the break-even point for most dairy farmers.
The New Zealand dollar rallied slightly on the positive result, climbing to US63.47 cents from US63.28 cents at 5pm on Tuesday.