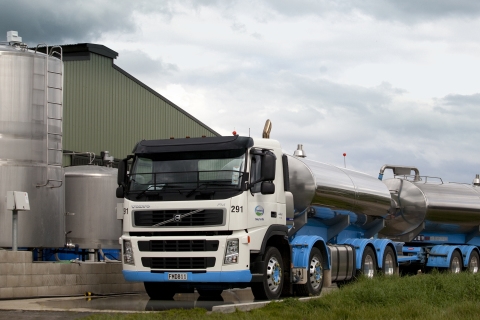 Source: AGWeb
Fonterra Cooperative Group Ltd., the world's largest dairy exporter, cut its milk price forecast to a fresh nine-year low as oversupply continues to depress the global market.
The Auckland-based company dropped its estimate for the 2015-16 season to NZ$3.90 ($2.64) a kilogram of milksolids from NZ$4.15, according to a statement Tuesday. It now expects to pay its 10,500 New Zealand farmers between NZ$4.25 to NZ$4.30 a kilogram of milksolids inclusive of dividends.
"This further reduction in the forecast farmgate milk price is the last thing farmers want to hear in what is proving to be a very challenging season," Chairman John Wilson said.
Four out of five dairy farmers in New Zealand will operate at a loss this season as the global slump in milk prices enters its third year, hurting economic growth, according to the central bank. Fonterra's announcement comes two days before Reserve Bank Governor Graeme Wheeler is due to decide whether to cut interest rates to a fresh record low.
Wheeler will keep the official cash rate unchanged at 2.5 percent on March 10, according to 15 of 17 economists surveyed by Bloomberg. Two expect a cut.
New Zealand's dollar fell after the Fonterra statement. It bought 67.73 U.S. cents at 9:05 a.m. in Wellington, down from 68 cents.
Milk prices have been falling amid increased European production and weaker demand from Russia and China. Prices at GlobalDairyTrade auctions fell to a 12-year low in August and haven't recovered significantly as the supply imbalance persists.
"The time frame for a rebalancing has moved out and largely depends on production reducing -– particularly in Europe — in response to these unsustainably low global dairy prices," Chief Executive Officer Theo Spierings said in today's statement. "Our forecast is based on no significant changes to either supply or demand globally before the end of the year. However, a reduction in the supply available for export before then could mean prices recover earlier than currently expected."