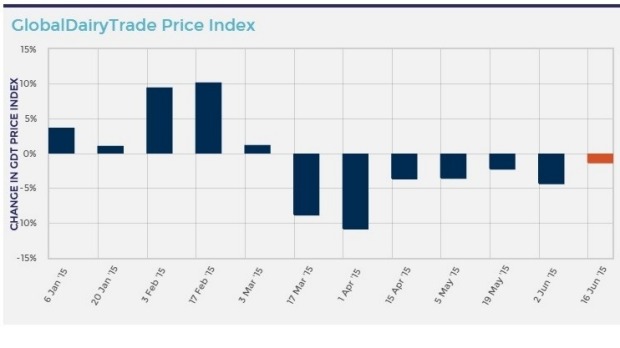 Source: Stuff
A mixed bag of results from the GlobalDairyTrade auction overnight saw dairy prices fall for the seventh consecutive time.
The price index fell by 1.3 per cent and the average sale price dropped 0.1 per cent to US$2409 ($3447) a tonne.
Butter, butter milk powder and cheddar increased while both skim and whole milk powders fell.
Anhydrous milk fat suffered the biggest fall, dropping 8.9 per cent.
Analysis firm AgriHQ decreased its 2015-16 Farmgate Milk Price by 14c to $5.50 per kilogram of milksolids following the auction.
Waikato Federated Farmers president Chris Lewis said international traders and buyers would have to get the message soon that New Zealand's dairy production would not be dramatically increasing in the new season.
"You have to wonder when the worm will change direction."
People in the food business needed to buy dairy ingredients to make a dollar and Lewis predicted that some time in the next few months they would "have to put a stake in the sand" and start buying again.
He also took solace because this latest fall was the smallest of all of the seven drops that had occurred so far. The Northern Hemisphere was starting to hit its peak production and he expected to see a more positive result in the next few auctions when that milk flow started to drop off.
Fonterra offered just 10,000 tonnes of whole milk powder, the least amount made available this year to date.
ASB rural economist Nathan Penny said this was probably the biggest let down in this auction.
"We were expecting a bit more of a bounce but we didn't get that so that's sort of slightly disappointing.
"Traditionally this auction is the smallest auction of the year. It's getting down to the point where production is lowest so you'd expect when production is low at this time of year, that is reflected in auctions and you'd get a bit of seasonal movement in prices."
Penny said the end of the season has surprised markets somewhat with a stronger than expected performance.
"We had the drought but that was very short and sharp and over March, April, May production recovered and increased versus last season. This has meant there has been a late flush and markets hadn't factored that in," he said.
ASB predicted the current season of milk to last another month or two, after which dairy prices should start to lift.
The last time prices lifted at the auction was March 3, 2015, when the index crept up 1.1 per cent.
It also predicts production in the new season to be lower than the same time last season.
"We do need prices to lift so if we're keeping a lid on production this new season, prices will lift and that should help farmer incomes more than if they would increase production," Penny said.
The quantity of whole milk powder is expected to rise from July, which AgriHQ dairy analyst Susan Kilsby said would make it harder for dairy prices to lift.
"It will become harder for prices to recover as the volume of milk powder on offer increases as the new dairy season progresses," she said.
A drop in the New Zealand dollar last week following the official cash rate cut was good news for farmers.
"A weaker New Zealand dollar is welcomed by our dairy farmers as this improves returns at the farmgate and helps to reduce the impact of the very low milk prices," Kilsby said.
The kiwi currency remained stable overnight, at US69.91c and A90.27c on Wednesday morning.
It was trading at US69.96c and A90.11c late Tuesday afternoon.